ISO 9001:2008 Documentation Control
Documentation control is based on maintaining a quality manual, procedures, and records as seen in the ISO9001 documentation pyramid.
Documentation is very critical to the ISO standard for two reasons:
1. Documentation is required for providing proof of compliance.
2. Documenting policies, procedures and work instruction provides better communication of the companies quality policy and more consistent processes. If the processes are consistent, monitored and continuously improving, the resulting quality should also be good.
The requirements start in section 4.2 (Documentation Requirements) and continue in parts of section 5,6,7 and 8. Each quality requirement has an associated documentation requirement. For example, the standard requires that management reviews be performed. It also requires that the results of the meetings be documented and maintained as a quality record.
The level-2 "document control" procedure must describe the system used to control any manuals, procedures, work instruction, quality records, literature used in the sale of product.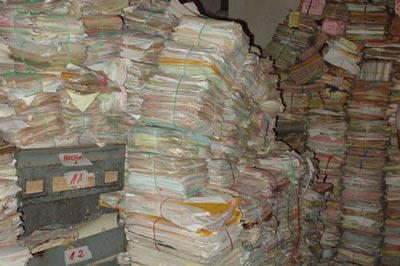 The company must have a system that controls quality documents. This includes:
1. Creating them ((Documentation Control))
2. Approving them (Engineering Change Order System)
3. Changing them (Engineering Change Order System)
4. Distributing them (Documentation Control)
5. Maintaining them (Documentation Control)
6. Eventually destroying or disposing of them (record retention schedule)
A typical audit will includes pulling assembly or test procedures and checking to make sure they are the most current revision according to the master revision control system. This can also be done on purchased or fabricated parts.
The document control procedure(s) should include the following:
1. A system for numbering documents and for revision controlling documents. I recommend using a simple numbering system with less than 9 characters. Revision control can be done with number prior to the release of the document and alphabetic revisions after the document is release.
2. Requirement for the generation of a documents or part number. This can include setting fields in the system database or drawings like manufacturer's part number, source, inspection requirements, dimensions, testing requirements, etc.
3. A system for managing original files. Wherever possible, a well designed paperless system is the simplest and lowest cost way to control documents.
4, A system for distribution of controlled drawing to production, vendors or other users.
5. References to the Engineering Change Order procedure, purchasing procedure, and order management procedure.
Here is list of some of the areas will require the maintenance of quality records:
The company quality manual, quality policy and quality goals
Customer requirements (Order and/or specifications)
Product build instructions
Product testing and monitoring documents
Management review meeting (input and output)
Internal audits
Engineering Change documentation
Purchasing
Inspection
Shipment of product for the purpose of recalls
Non-conforming materials
Design projects ( design input, output, validation and approval)
Calibration and maintenance documents
Training and qualification documents

When most companies are implementing a new ISO9001 quality system, they do not complain about the need to document process to improve quality. They do complain about the additional resources required to maintain records for the purpose of providing proof of compliance. The key to a successful implementation is designing a system that will minimize the time required to create, maintain, change and use quality documents.