ISO 9001 Corrective And Preventive Actions Articles
The corrective and preventive actions system is one part of an ISO 9001 quality system that can make or break the success of the system. If the CAPA system is too complex, engineering quality improvements will grind to a halt and product quality will drop If the system is too simple, it will not have enough control to avoid serious failures. It must be efficient and effective.
Corrective and Preventive actions are used to adjust the manufacturing processes, quality system and product documentation to continuously improve product and service quality. This process never ends. Corrective and preventive actions are usually based on an engineering change request and engineering change order system. In general it is recommended that all feedback from internal and external sources be entered into the engineering change request system. This can include customer survey results, customer complaints, nonconforming material data, field failure data, work-in-process testing results, internal audit results, external audit results and suggestions from personnel. The inputs are then entered into the Engineering Change Request System. This system is used to queue workload for the engineering and quality problem solvers. The engineering manager or quality manager then reviews this bulk of requests for prioritization. The highest priority issues are assigned to personnel who create an engineering change order to correct the problem. Some engineering change requests will be denied and the denial will be justified in the ECR system before the item is closed. Other requests will generate an Engineering Change Order that includes an assignment to a project manager. The engineering change order will include complete details on how to correct the problem and when the change will take effect. This system is a closed loop system that will continuously improve quality. The status of the ECR and ECO systems should be used as input for the management review meetings.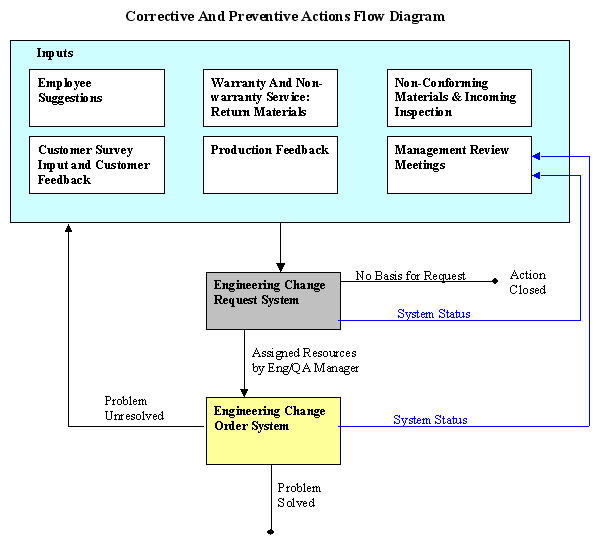 The process of managing this data usually requires a database since priorities change on a daily basis and the amount of input can be very large, even at small companies. A database is also advised since the system can be used to generate automated reports that are used in the management reviews. Without constant supervision, engineering requests and change orders can pile up and start dragging down the company. A database and procedure for managing engineering change requests and change orders is included with our QMS in a box product.
Detailed Information About Corrective And Preventive Actions Articles
---
Corrective and Preventive Actions
This article is quick review of the corrective and preventive actions requirements of ISO 9001.
Engineering Change Order System
This sample Engineering Change Order procedure is the basis for any ISO 9001 corrective and preventive actions.
---
Our ISO 9001 Solutions:
Total QMS In A Box
Our turnkey solution for the development of an ISO 9001 certified system.
Starter Kit
This solution is perfect for those trying to determine the scale of an ISO 9001 certification project.
Gap Analysis
This product is for those who need a detailed gap analysis to determine area in the quality system that need upgrades.
Quality Manual
Our professional quality system manual can save hours of frustration if you don't already have an ISO compliant quality manual.
Internal Auditing
If you need an Internal auditing check sheet, our audit list is one of the most detailed ones in the industry.